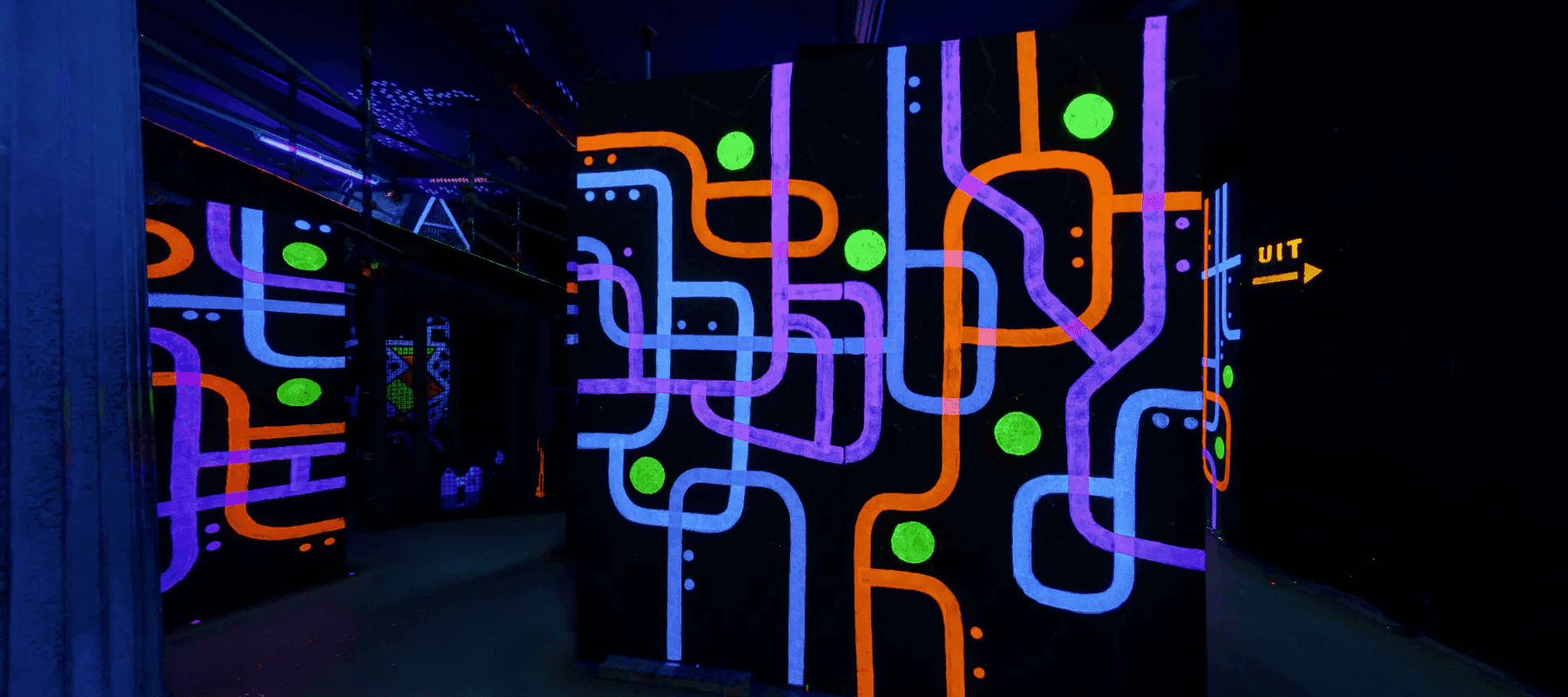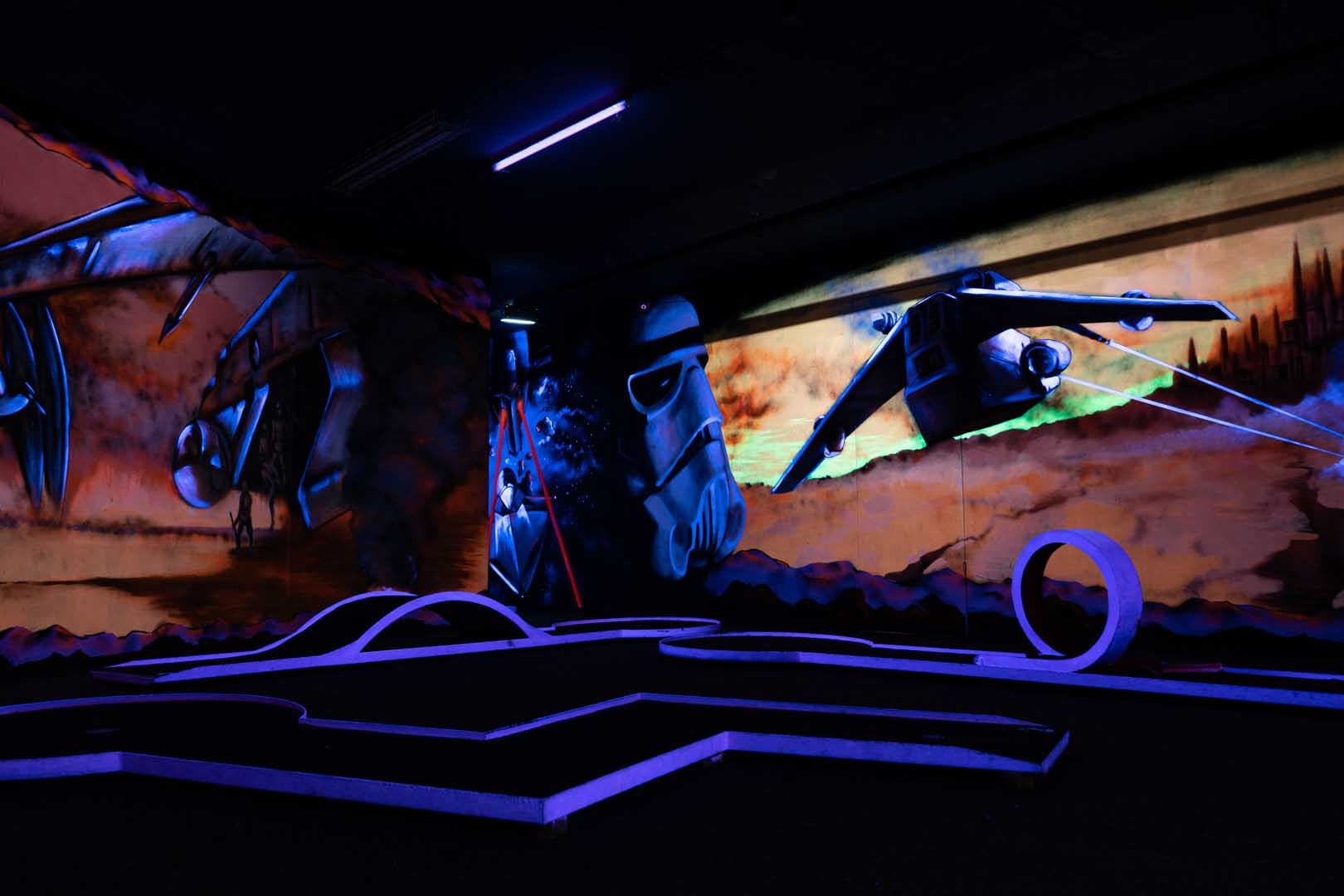 Looking for an activity for a kids' party, corporate event, team outing, student gathering, bachelor(ette) party, or any other special occasion? We offer exhilarating activities that rival experiences like Escape Rooms! Not only do we boast the most stunning arena around, located in the heart of Nijmegen, but we also provide the most entertaining games.
Swing by and try a round in our Glow in the Dark Mystic Golf room, adorned with mind-blowing murals themed around Star Wars and The Avengers. With thrilling music and challenging courses, it's the perfect outing for a first date, getting to know someone, or celebrating a long-standing friendship. Armed with a glowing stick and ball, compete to see who among you is the Mystic Golf monarch in the dark.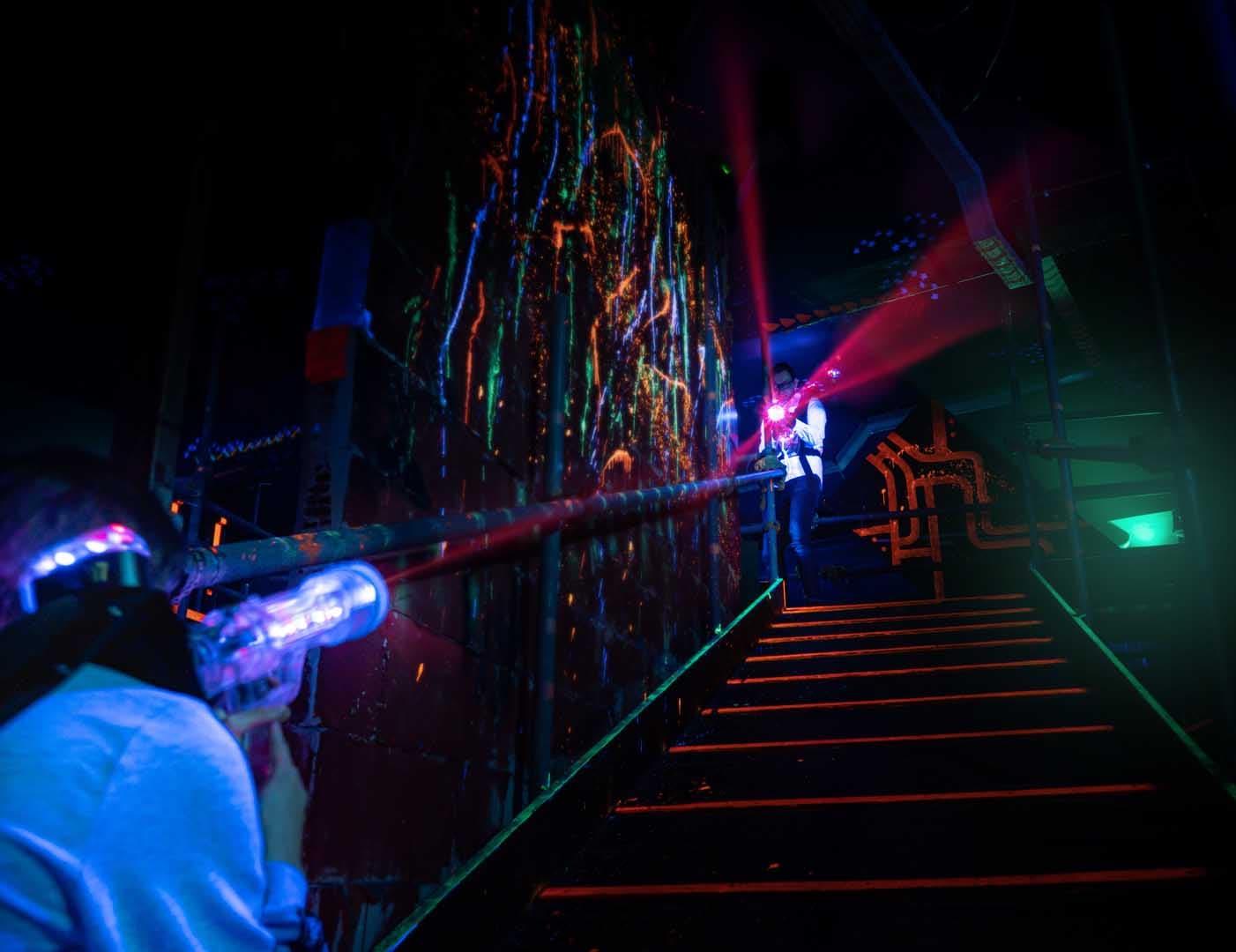 We also exclusively offer the fast-paced LaserSquash. The ultimate game to test who's got the fastest reflexes. Can you bounce back the approaching lasers in a flash?
Then, of course, there's the game that's the talk of the town – Laser Tag. Round up your friends or colleagues and play a round in Nijmegen's premier arena! Like almost everyone around Nijmegen, did you wear the Laser Tag vest from a young age, battling with a Laser Gun in hand? To later return with your coworkers or your own kids for a rematch?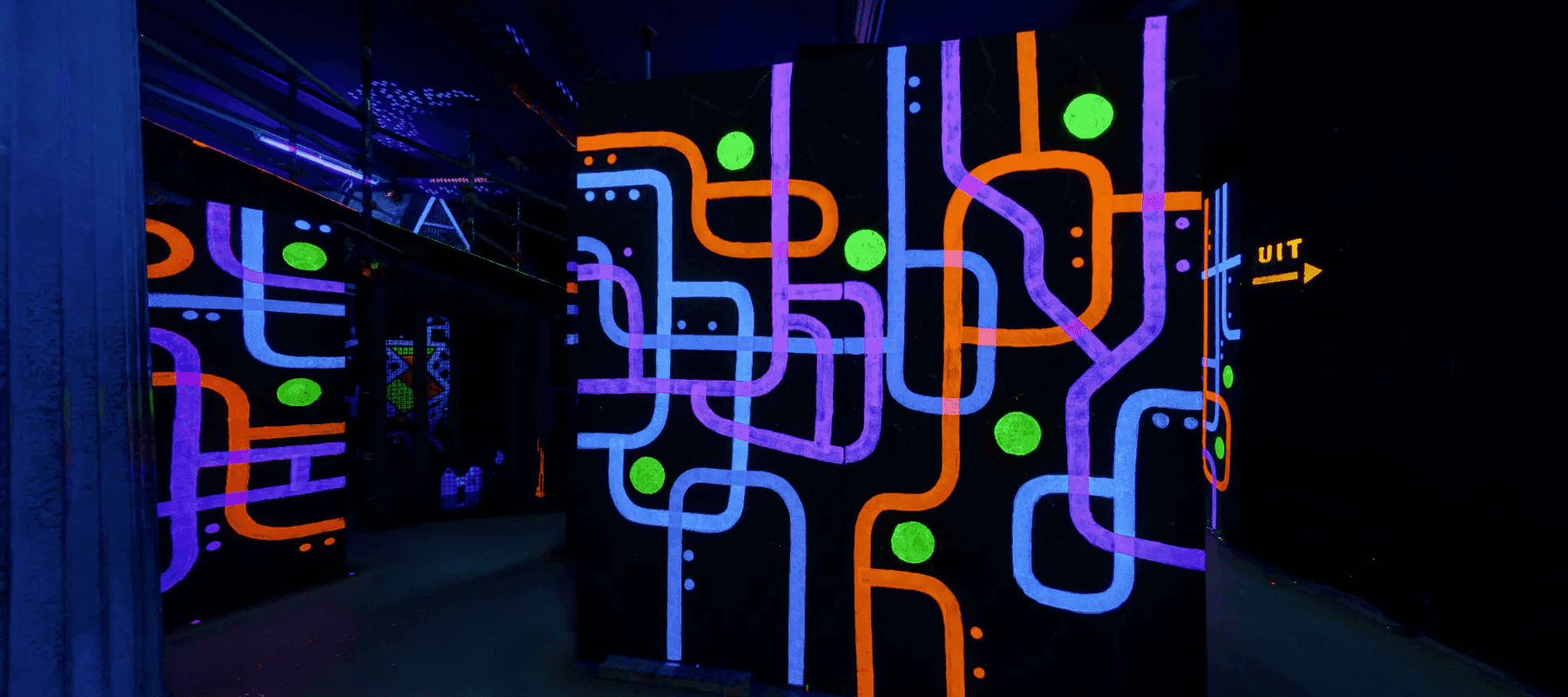 Laser Tag is an adrenaline-pumping game for all ages. A game where you neutralize opponents by shooting laser beams from a Laser Gun. Pop in and try one of our 5 diverse game modes!
Stay alert in our Laser Tag Arena; danger lurks around every corner. Feel the thrill as you and your team vie to conquer the bridge, making it an ideal team-building venture. Our unique arena music promises an unforgettable experience.
Can't get enough? Drop by on Fridays and Saturdays for our 'Unlimited Play' deal at €21.00 p.p., and play non-stop from 7:00 PM to midnight.
Business hours
Monday during holiday's
14:00 – 22:00
Tuesday through Thursday
14:00 – 22:00
Friday and Saturday
12:00 – 01:00
Sunday
12:00 – 20:00
Planning your adventure outside our business hours? For larger groups (starting from x people), we offer special slots on Monday mornings and beyond. Ring us during operating hours or shoot us an email, and we'll be right in touch.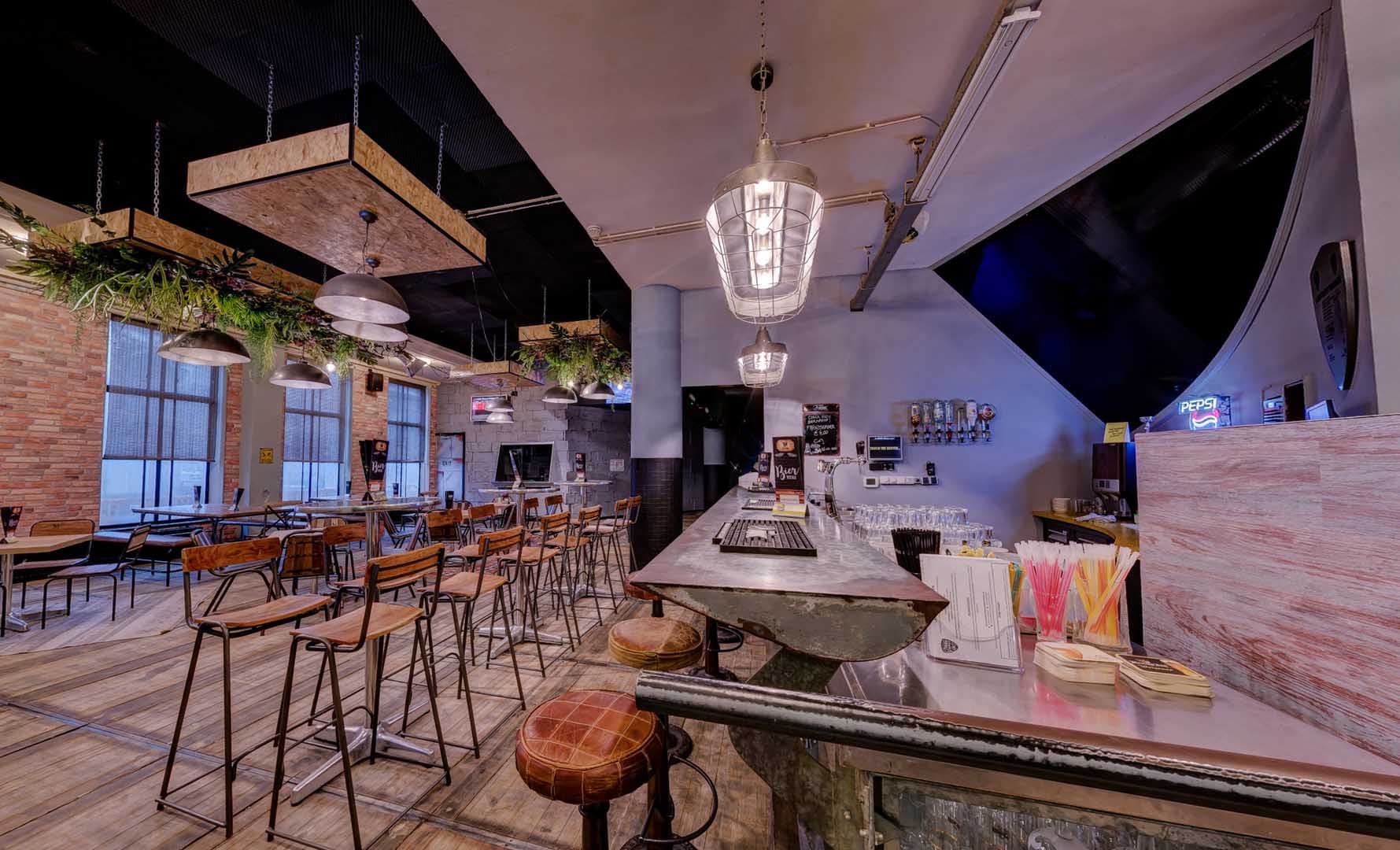 After a thrilling 15-minute session in our arena, refresh at our chic industrial bar with a panoramic view of Nijmegen's bustling center. Enjoy our array of specialty beers, cocktails, and non-alcoholic beverages, complemented with tasty snacks and board games.
After visiting us, step into the vibrant downtown for more fun. Plus, bundle our activities with a meal from our partners; easily planned and booked via our website. Opt for arrangements with China Delight, Thibeau, or the Pancake Boat.
Questions or feedback from our website? Reach out via phone or email. We're on hand to answer swiftly!